Blogging About The Blog
I had a very sureal experience today when I was going through my typical routine. I have a list of blogs that I check everyday, and it's always fun to see friends get mentioned places, but this morning I clicked over to Scott Macaulay's
Filmmaker Magazine
blog and saw Greta staring back at me. It was really arresting. We all gathered around and read his nice mention of the film. It was exciting.
The other day we also got a shout out from
Matt Dentler
at his blog. It's really nice to know that people care about the film and are excited to see it. We're doing our best to make it great.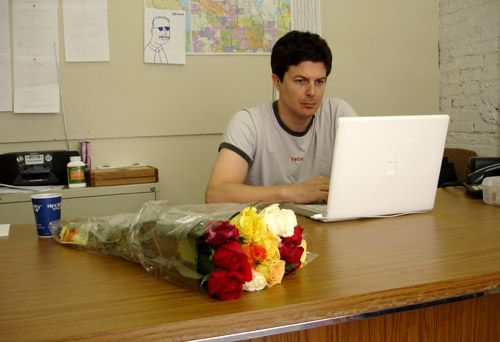 We wrapped on the office location today, and shot a quick scene that's going to smooth over a tricky transition in the film. It was sad to pack everything up and move it out of there. It really drove home the fact that this will be over soon. We all have it in the back of our minds, but this made it explicit.
Anish is coming tonight to meet everyone and see some footage. We're going to try and grab one more quick scene before he gets here.